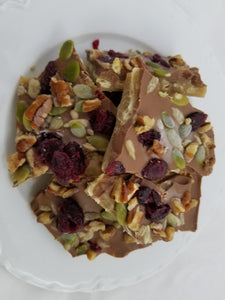 Autumn Brickle
Mook and Pop's Culinary Delights
Regular price $10.00 Sale
Our newest creation is Brickle Candy.  Brickle (fondly called Crack) is a handmade crunchy, salty, and sweet candy of crisp caramelized salty crackers drenched in chocolate, toffee and nuts.  Besides the original, we have created many variations of Brickle that we offer to sell. Because of the immense popularity of our Brickle, we are now offering it online.
Savor the essence of fall with our Autumn Brickle—a delightful fusion of Callebaut Belgian Milk Chocolate drizzled over caramelized saltine crackers. This delectable treat is then elevated with a symphony of textures and flavors, including the tart sweetness of dried cranberries, the earthy crunch of raw pumpkin seeds, the toasty richness of roasted sunflower seeds, and the buttery goodness of chopped pecans. Each 12 oz. batch is crafted to perfection, making it the ideal seasonal indulgence for your taste buds.
Refrigerate for a week, or freeze the Brickle for three months.  The brickle is delicious either way.
Allergy Warning:  Our baked goods are prepared and baked in a kitchen where products containing wheat, nuts and peanuts are produced.
Shipping & handling is USPS Priority Small Flat Rate Box for $8.00 Three containers of brickle will fit into the same Priority Medium Flat rate box for $13.00.
 Shipments are only made within the continental United States.
 We cannot ship to P.O. Boxes, APO or FPO addresses. Shipping addresses with a PO Box will cause a delay until we can obtain a correct shipping address. 
We ship Monday-Wednesday, U.S. postal service Priority 2-3 day. You can either refrigerate or freeze after you receive the Brickle. It is delicious either way.


Refund Policy:
Refunds cannot be given for shipments once it leave our facility for the following reasons:
An incorrect or incomplete shipping address.
Delays caused during Major Holidays.
Weather-related delivery issues.
Problems beyond our control. 
Thank you so much for ordering our Brickle!!!!