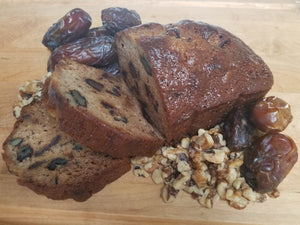 TWO Date Nut Breads For One Shipping Price
Mook and Pop's Culinary Delights
Regular price $28.00 Sale
Mook and Pop's Culinary Delights is a from-scratch bakery offering you the highest quality of baked goods.
Our delicious 2 lb. loaf of our classic Date Nut Bread is a 70-year-old family recipe.  We use only high-quality fresh ingredients: King Arthur Flour, C&H Pure Cane Sugar, flour, walnuts, dates, baking soda, eggs, butter, and vanilla.  
Our fresh eggs are from Hillikers Egg Ranch in Lakeside, California.
The dates are Medjool Dates from Mirage Date Gardens, in Coachella Valley, in Southern California. Medjool Dates are a rich and almost caramel-like texture. No chemicals, insecticides, or pesticides are used.
Refrigerate for a week, or freeze up to 4 months.  
 We are now offering 2 Date Nut Breads for one shipping price of $13.00.
Shipping & handling is USPS Priority Medium Flat Rate Box. Shipments are only made within the continental United States. We cannot ship to P.O. Boxes, APO or FPO addresses. Shipping addresses with a PO Box will cause a delay until we can obtain a correct shipping address. 
We ship Monday-Wednesday U.S. postal service Priority 2-3 day
Enjoy a slice or two of our dense, moist bread. This will be one of your favorites.